Encuentro de Familias Irlanda 2018
La ciudad de Dublín, capital de Irlanda, ha sido elegida por el Papa Francisco para celebrar el Encuentro Mundial de las Familias que tendrá lugar del 21 al 26 de agosto de 2018. Con el lema El Evangelio de la Familia: Alegría para el Mundo, este evento internacional que se celebra cada tres años congrega a familias de todo el mundo para rezar y reflexionar acerca de la importancia del matrimonio y la familia como pilar angular de nuestras vidas, en la Iglesia y la Sociedad.
El Encuentro Mundial de las Familias está convocado por el Santo Padre y es promovido por el Dicasterio para los Laicos, la Familia y la Vida de la Santa Sede. En septiembre de 2016, este nuevo dicasterio reunió al Consejo Pontificio para los Laicos, al Consejo Pontificio para la Familia y otros ámbitos relacionados con la misión de la Iglesia para promover el respeto por la vida en todas sus etapas. El prefecto del nuevo dicasterio es el cardenal Kevin Joseph Farrell, anteriormente obispo de Dallas (Estados Unidos).
Dublín, la Diócesis anfitriona
El Encuentro Mundial de las Familias está organizado por una diócesis de acogida elegida por el Papa. Para el encuentro del año 2018, el Papa Francisco eligió la Archidiócesis de Dublín, en Irlanda. Para cumplir con esta tarea, la Archidiócesis de Dublín ha nombrado un equipo para trabajar con las familias, compuesto por jóvenes, hombres, mujeres y religiosos de toda Irlanda que participarán juntos en la planificación del evento. El Padre Timothy Bartlett ha sido nombrado Secretario General y Anne Griffin, Gerente General para El Encuentro Mundial de las Familias 2018.
¿Participará el Papa Francisco?
Es demasiado pronto para saber si el Papa Francisco asistirá al Encuentro en Irlanda. Lo que sí se sabe es que ha dicho que le gustaría estar presente en el Encuentro. Su agenda se suele anunciar unos meses antes de los eventos. La visita Papa Francisco sería una gran alegría para los católicos irlandeses (y los que no lo son), pero la decisión dependerá de muchos factores.
---
Calendario y precio del Encuentro de Familias: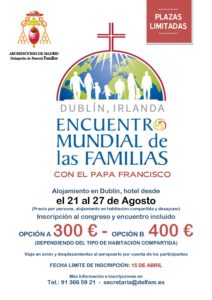 MARTES 21 DE AGOSTO: Apertura Nacional del Encuentro Mundial de las Familias 2018. Se realizará en forma simultánea en todas las diócesis de Irlanda.
MIÉRCOLES 22 A VIERNES 24: Congreso de tres días, con reflexión diaria sobre el tema "El Evangelio de la Familia: Alegría para el Mundo" elegido por el Santo Padre. El congreso comprenderá un programa enriquecedor para adultos con importantes oradores, talleres, charlas, testimonios y debates; un programa motivador y apasionante para los jóvenes y actividades divertidas para los niños. También habrá celebración diaria de la eucaristía, actividades de oración, ferias, eventos culturales y conciertos de música.
SÁBADO 25 DE AGOSTO, Festival de las Familias. Comprenderá un evento estilo concierto en un ambiente de alegría, reflexión y oración. Familias de todos los continentes compartirán historias personales de fe.
DOMINGO 26 DE AGOSTO: Solemne Celebración Eucarística. Cierre del Encuentro Mundial de las Familias 2018 con una misa que reunirá a miles de personas de Irlanda y el mundo entero.Los eventos principales del Encuentro Mundial de las Familias 2018 tendrán lugar en Dublín, en un prominente centro de conferencias, al igual que en otros lugares dentro y alrededor de la ciudad. Además, en todo el país se llevarán a cabo eventos relacionados que impliquen la recepción y acogida de grupos internacionales. Se exigirán entradas para todos los eventos oficiales. Nuestro sitio web brindará más detalles sobre el programa y los lugares al aproximarse la fecha del encuentro.Se espera la asistencia de miles de personas y familias de toda Irlanda y el mundo. Algunos vendrán por cuenta propia y otros lo harán en grupo o como parte de una organización. Tanto adultos como jóvenes y niños están invitados a participar del encuentro.Esta reunión importante y jubilosa estará precedida por un período de catequesis/programa de educación en la fe, preparado por la iglesia en Irlanda para uso de las parroquias locales y alrededor del mundo.
El programa Amoris: Hablemos Familia! Seamos Familia! es una plataforma multimedia interactiva de recursos catequísticos que estará disponible en el sitio web de la página de Familias (http://www.worldmeeting2018.ie/es/) con una aplicación específica. Está inspirado fundamentalmente en la Exhortación Apostólica Amoris Laetitia ('Opens in new window La alegría del Amor'), publicada por el Papa Francisco en marzo de 2016, después de los Sínodos de la familia celebrados en 2014 y 2015.Para el Encuentro Mundial de las Familias se han preparado especialmente la oración oficial, el logo, icono y el himno, los cuales constituyen elementos claves en el itinerario de preparación para el evento.
*Texto extraído de la página del Encuentro Mundial de Familias.
---
Información corporativa
Para poder planificar y realizar el Encuentro Mundial de las Familias 2018, se ha establecido y registrado en 2016 en Irlanda una sociedad limitada por garantía. El nombre registrado de la compañía es World Meeting of Families 2018 Limited by Guarantee, número de registro 590403. World Meeting of Families 2018 CLG Registered Charity Number (RCN) is 20152710.Para lograr este propósito, el Encuentro Mundial de las Familias 2018 se compromete a:
Preparar y promover un programa de catequesis y evangelización con antelación a los eventos en Irlanda y en todo el mundo.
Apoyar el desarrollo de estructuras pastorales que servirán de base para el desarrollo permanente de la fe tras el Encuentro Mundial de las Familias 2018.
Diseñar, publicar y obtener la licencia del logo corporativo y así como otros materiales que puedan ser necesarios para promover el Encuentro Mundial de las Familias 2018 y su principal objetivo.
Organizar el alquiler de instalaciones, servicios, seguros, higiene y seguridad para el alojamiento de los diferentes eventos.
Contratar y formar personal y voluntarios que se encargarán de la preparación y realización del Encuentro Mundial de las Familias y que continuarán sirviendo en la misión de la Iglesia en el futuro.
Proporcionar servicios materiales y espirituales para aquellos que participen en el Encuentro Mundial de las Familias.
Proveer el apoyo adecuado para las acciones de recaudación de los fondos necesarios para cubrir los costos involucrados en el cumplimiento de estos objetivos.
Mejores prácticas y procedimientos de salvaguardia de niños y adultos vulnerables, de acuerdo con todos los estatutos de la Iglesia y políticas relacionadas.
El Consejo de Administración es presidido por el Arzobispo Diarmuid Martin. Los otros directores son: Pbro. Timothy Bartlett, Mons. Paul Callan, D. Paul Corcoran, Obispo Francis Duffy, D. Michael Duffy, Dña. Barbara Gilroy, Mons. Kieran McDermott, D. John McGouran, D. Declan McSweeney, Obispo Denis Nulty, Dña. Deirdre O'Rawe y el Secretario de la sociedad D. Edmond O'Connor. Oficina registrada: World Meeting of Families 2018, Holy Cross Diocesan Centre, Clonliffe Rd., Dublin 3, Ireland, Eircode D03 P2E7.